The importance of self-advocacy, especially for women in tech, has been well documented over the last few years. Just read Emily Chang's "Brotopia: Breaking Up the Boys' Club of Silicon Valley," or listen to Harvard Business Review's podcast, "Women at Work." 
While the benefits of speaking up for yourself — including increased recognition resulting in gender diversity among groups of influence — seem obvious, the journey to self-advocacy can be less straightforward. That's where the following nine Bay Area professionals come in. The global VPs, art directors and technical program managers all emphasized the benefit of sharing work contributions with higher-ups early and often. 
"It takes a lot of work for managers to know about everything that's going on in a report's day-to-day and near impossible for them to read their minds," Linda Pham, a product manager at Webflow, said. 
External obstacles are plentiful in the world of professional advancement. The last thing you want to do is step in your own way.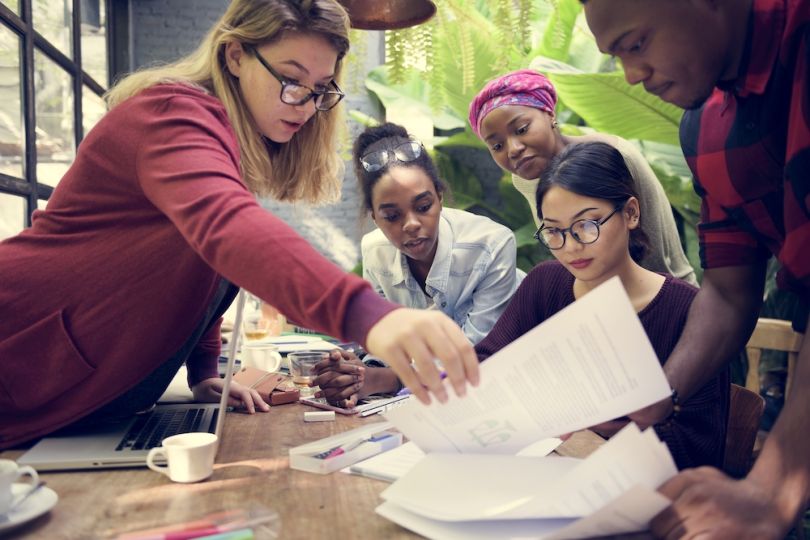 How Sbano overcame past fears or doubts about advocating for herself: I believe that there is a difference between arrogance and confidence. It is important to embrace that confidence and speak up when we find ourselves in positions where we feel capable of taking on the role, offering an opinion or leading an effort. I might not always be the first in the conversation to speak up, but I will not hesitate to make my opinion and voice heard, even in a meeting where I am the only woman. 
It is easy to feel hesitant, especially if someone speaks up first and makes a play for the opportunity. In meetings, I acknowledge other people's stance on a topic and make my opinion known. Depending on the audience, I've also backed requests for task or project ownership with objective reasoning. 
Her advice for women who may feel like their contributions are being overlooked: Be your own advocate. Speak up directly in circumstances where you feel like you contributed. If you are hesitant to do this, start in smaller environments where you feel more secure. If your team has retrospectives, use a moment to acknowledge one of your contributions by focusing on the outcome you achieved or the value your work added. This practice helps me counter the feeling of coming across as arrogant.  
How she thinks of self-advocacy: I hesitate to state absolutes, but when done with tact and professionalism, self-advocacy always pays off. When I advocate for myself, I often do so with a clear outcome in mind. I approach the conversation with an objective and use my accomplishments or opinion of my abilities as evidence to support it. As a result, I've been promoted and received support that I needed. 
I also think that it's important to advocate for others. We are all here to support each other. Some of us are at different places in our careers and lives. Having someone help give you a small boost often makes all the difference. Having confidence and advocating for yourself is not about putting others down or letting others be silenced. It's our responsibility to help each other and speak up so that someday, we can all find the confidence to speak for ourselves.
Biggest self-advocacy hurdle: In previous roles, I lacked the confidence to speak up. As a designer, artist and director, the most effective way to promote your abilities and accomplishments is to present your work. So I signed up for every class in communication, presentation skills and improv that I could find. I have even volunteered to present to large groups because doing so used to terrify me. 
After years of practice with presentations and meetings, it's now second nature. I even find it energizing. I've also been able to get past my fears with the support of wonderful work friends and colleagues. If I ever feel the fear of self-advocacy creep back, then I have a great support system to lean on.  
Her advice for women who feel like their contributions are being overlooked: Try changing how you surface your work. Find new ways to share your accomplishments, get help from work friends and colleagues or change how you communicate with others. Start by emphasizing how you're making an impact in your one-on-ones with your manager. Work your way up to presenting your work at team meetings and discipline guilds.  
The journey of self-advocacy doesn't have to be traveled alone. Your manager can champion your work up to leadership teams. Colleagues can be a source of emotional support in meetings. Co-workers can introduce you to the right people to help move your project forward. 
Sometimes it can simply be a matter of adapting your communication style. If you're not getting the results by sending emails, try setting up a meeting to share how your work has helped the team or product. If you're speaking with a busy executive, be as concise and informative as possible with your allotted time. And if you're talking to someone who is laser-focused on data, then tailor your conversation to show your contributions through data and results. 
A time when speaking up paid off for her: At a previous job, I worked as a team leader helping design successful live-ops features and optimizing our pre-production processes. One year, while working on annual bonuses, I realized that one of my direct report independent contractors was earning more than I was. I had no issue with his salary. He was talented and experienced. However, it made me realize that my salary was not reflective of the value and impact that I brought to the studio. 
In the next one-on-one with my manager, I came prepared with objective facts and shared how I felt about the situation. I was anxious, but I stayed calm and collected because I had practiced ahead of time. My manager agreed that it did not look great that a direct report was making more than I was and said he would follow up. 
A few days later, our studio's creative director pulled me aside to share that I was being given a huge raise. I was grateful for the swift action. I was also thankful that I stood up for myself. From that experience, I learned that self-advocacy can literally pay off in a big way.
How González advocates for herself: I am usually able to be matter-of-fact about my accomplishments and, when needed, use wit and humor to promote myself. Advocating for oneself only comes off as arrogant if those statements can't be backed up with facts, data and follow-through. I also do my best to balance personal praise with recognition for my teammates.  
I definitely have insecure moments. I get over those instances pretty quickly with the support of my personal board of directors. They help keep my ego in check and build me up when I need it.  
Her advice for women who feel like their contributions are being overlooked: Spend time reflecting, defining and developing your personal brand. If you were marketing yourself as a product, what would you need to do to increase visibility and trust? Do you have an elevator pitch that quickly describes your role and the impact you've had on the company? 
Have informal virtual watercooler breaks with various leaders in the company. Ask them what problems they are trying to solve and wherever possible, be their solution. Discuss your goals and accomplishments with everyone.
Don't wait for someone to ask you or magically know what it is you're looking for. Talk about problems you have already solved, their impact and your goals. Remember that anyone can be your sponsor. They just need to be in a decision-making room and mention your name for a stretch project, new role or other type of recognition.
A time when self-advocacy paid off for her: A while back, the company I was working for decided to move the customer service call center I helped build to Las Vegas. I was positioned to be out of a job in short order if I didn't want to move as well. I knew that our employees were our secret sauce. They needed more help to be engaged, developed and successful in their careers. I identified a gap that I could easily fill. I went directly to the COO and told him I was interested in helping HR, even though I had no HR experience other than managing employees. I also told the VP of engineering, the VP of HR and the VP of sales. I shared the very specific problems with our employee experience and the specific strategies I could implement to fix them.  
I knew that if we didn't fix those issues, we wouldn't succeed as a company. I moved into HR a week or two later. I learned that problem-solving was just one piece of the puzzle. Without sharing with leaders that I understood the impact of those problems and had concrete solutions, my aspirations would not have come to fruition.
How Mithal overcame past fears or doubts about advocating for herself: It boils down to three things for me: building self-awareness, owning your work and finding your advocates. Understand where your hesitation to speak up is coming from. I realized a lot of mine was implicit in my culture. We are told not to speak out loud or contradict what elders say. I have been told to "act like a girl." Identifying the root of insecurity helped me better combat the embodied cultural norms and play on my competencies instead.
To combat coming off as arrogant, go with a growth mindset. Even as you talk about your accomplishments, acknowledge what you don't know. Always be learning. I gain a lot of positive energy by speaking with my colleagues who really know about my work. 
Her advice for women who may feel like their contributions are being overlooked: It's natural to feel frustrated if you don't get the proper acknowledgement for your work. I find this three-step framework to be helpful: Start by acknowledging the emotion. Recognize and feel your emotions. Allow yourself to feel frustrated. Then, label what you are feeling. Finally, communicate. Identify who you should speak with and why. Start by communicating with those who would advocate for you to build your confidence. Then move toward the harder audience.
A time when self-advocacy paid off for her: In one of my roles, I wanted to advocate to leadership that I was fit to drive a pretty meaty project. I also wanted to get funding for a larger team in order to drive that project. To start this conversation, I reflected upon the success of my previous projects. I also got feedback and support from my immediate colleagues regarding the business value of the proposal. With the support of my colleagues, we were able to get the project approved and resourced.
Taking the first step is difficult. But usually, the path becomes clearer as you start having these conversations.
How Pham advocates for herself: It took becoming a manager to recognize the actual responsibilities of one. Previously, I thought my manager was there to corral the troops and make sure we got things done. While this is part of the job, when I became a manager, I realized how much of my time was actually spent making sure my reports were heard, recognized and given opportunities to grow in their careers. 
It takes a lot of work for managers to know about everything that's going on in a report's day-to-day and near impossible for them to read their minds. I've had reports who will tell me point-blank what they've achieved and exactly how they would like to grow in the company. I've also had reports who kept it bundled up. The latter required the most work. I had to dig to learn about their motivations, their achievements and, most importantly, their expectations and goals. 
Most managers have good intentions. They may just not realize that they needed to dig to find out more about their reports. Your manager wants to be your advocate. Help them do so by telling them what they should be advocating for. 
Pham's advice for women who may feel like their contributions are being overlooked: I think we all hope that we will be automatically recognized. But sometimes, that doesn't happen. Is it because your achievements are hidden? Does your manager assume you don't like public validation? Whatever the reason, attack it straight on. Also, remember you can always rely on self-advocacy. And if you're not comfortable with it, connect with one of your close peers in the office and have them give you public props. Just don't forget to return the favor. 
A time when self-advocacy paid off for Ehrenborg: Actually, getting my job at Webflow. I was at a conference in San Francisco for my former job and I wasn't actually looking for a new role at the time. But I heard about the company and it piqued my curiosity. I talked to two Webflow employees about the work I was doing and projects I was interested in. We also discussed the no-code movement and all of the potential for the future and the company. I realized that in my excitement about no code and what the company itself was doing, I didn't have time to feel anxious or nervous. I just presented myself as I was, and that ended up being enough.
How Shevade views self-advocacy: Before advocating for yourself, think through what you are advocating for and why you believe you need to highlight your abilities and accomplishments. Once you have specific examples of your experience, frame the message in a way that will be heard. When you are ready to deliver the message, be polite but stern. Don't be afraid to stand your ground as long as you do so respectfully and politely. 
Lastly, don't put all the onus on yourself. As long as you believe you did the right thing, how others perceive it shouldn't matter. 
Her advice for women who may feel like their contributions are being overlooked: Think through why you feel like your contributions are being overlooked. If you feel someone else is getting credit or taking credit for your work, engage an ally from your team and do a sanity check. Sometimes, other folks can help identify your blind spots for you. Come armed with specific examples of how your contributions are being overlooked, collect feedback and come up with a plan. Sometimes peers aren't trying to be malicious. It might simply have slipped under a manager's radar.
If you feel like your contributions are being overlooked because you see opportunities passing by you to other members on the team, reflect on whether your work is visible to your team. As women, we tend to downplay some of the important work we do. Think of the different ways you can add visibility to your work. I personally like to establish myself as an expert in a certain part of the stack by hosting lunch and learns or workshops.  
If you are already doing all of the above, have an honest conversation with your manager and tell them how you feel and why. Come armed with some potential solutions that you think would resolve the issues. Most managers want only the best for their team-members and will appreciate the honest constructive feedback.  
A time when self-advocacy paid off for her: At a previous company, my manager moved on to start his own business, so we started a search for his replacement. This role required management during a time when native mobile engineering was based on Objective C and Java. Skill sets were niche, the job market was booming and the talent pool was limited and expensive.
I checked all the boxes on the job description in terms of requirements except management experience. I saw multiple candidates get rejected for not having the right technical chops. Frustrated with all the interviewing, I asked my ex-manager's boss for the opportunity to try it out. To my surprise, he looked relieved. It turns out, he was just as frustrated with interviewing as I was. He was happy to put in the time to develop someone internally for this role rather than hire from outside. 
How Sadoughi advocates for herself: I have learned that opportunities exist for people who are willing to spend the energy to seek them out and work hard for them. With hard work comes accomplishments. And with accomplishments comes confidence. Be confident advocating for your accomplishments because if you don't, no one else will.
Her advice for women who may feel like their contributions are being overlooked: Choose a career you love, work hard and make sure you are always learning. Document your learnings and contributions. Advocate for yourself. Not many people can argue with a fact-based list.
A time when speaking up paid off for her: During the early days of my career, I was an entry-level engineer in the semiconductor industry. I had a conversation with my manager about my career path. He told me that the only person who really cares about your career advancement is you. I took that advice literally and created a data-driven list of my accomplishments over the years. I then applied for promotions. As a result, I was able to advance from an engineer to a senior engineer to a staff engineer and then a senior staff engineer within a short few years.
How Zilbermints advocates for herself: It all comes down to communication. Everyone fears different things driven by our past, whether it be a fear of being misunderstood or a fear of coming across as aggressive or entitled. Throughout the years, I've learned to listen before I speak and be truly present with my audience. Once we become connected to the problem we're trying to solve, we no longer fight to get our own points across. True connections drive confidence.
Her advice for women who may feel like their contributions are being overlooked: The way we come across and the way people see us is the true reflection of our internal world. As soon as you connect with your inner voice, you will radiate confidence without effort. Listen to yourself as someone who is strong, powerful and connected and see what happens.
A time when self-advocacy paid off for her: When I started at Avenue Code, I was tasked with "opening doors" and building my book of business. I saw an opportunity to create a bigger impact by building teams globally. Once I connected to that impact, I started to advocate for myself and created a vision with a bigger purpose. Today, I'm managing global teams. I help my sales team find their voices by discovering individual strengths.