San Francisco-based startup Keeper Tax announced Thursday that it raised $13 million in a Series A round to continue building out its tax filing software.
Keeper Tax automatically connects to a user's bank accounts to actively monitor purchases for missed write-off opportunities. The platform offers tax advice, expense reporting and a filing solution to those filing a 1099.
A few times per week, Keeper Tax sends a text message to its users to ask if a transaction was a work expense or not. If the answer is yes, the transaction is logged and categorized into a Schedule C business expense category. From there, the platform's AI engine takes note so that similar transactions can automatically be logged in the future.
When it comes time to file, Keeper Tax users can do so directly through the app for $89. The company also provides users with the option to export their data to another tax service or to their accountant.
"Taxes for gig, creator, and freelance roles fall in between personal and traditional business filing. Traditional tax filing software doesn't service these individuals adequately," a spokesperson for the company said in a statement. "On top of that, tax laws are complicated and don't offer much guidance on what they can claim as expenses or what they can write-off."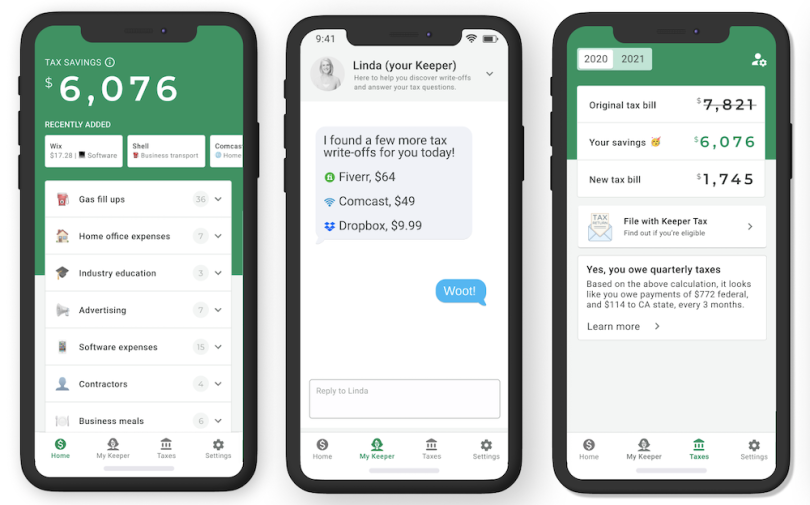 Keeper Tax will use the additional capital to hire for its team as it continues to expand. The company is currently on the lookout for a full stack engineer, data scientist, product manager, operations manager and content marketing manager to join its team.
Following the raise, Keeper Tax will place a special focus on building out its artificial intelligence capabilities to support more types of 1099 roles.
"With more people taking on gig, creator, and freelance roles as their sole source of income, and for those taking on a side gig or monetizing a personal passion, we felt it was important that they have access to the same tax advice and write-offs that those that could afford accountants did," Paul Koulick, founder and CEO of Keeper Tax, said in a statement.
The round included participation from e.ventures, Matrix Partners and Foundation Capital. Additional investors include Lattice CEO Jack Altman, Digits CEO Jeff Seibert and Segment president and co-founder Ilya Volodarsky.
Keeper Tax has raised $15.8 million in venture capital financing to date, according to Crunchbase.