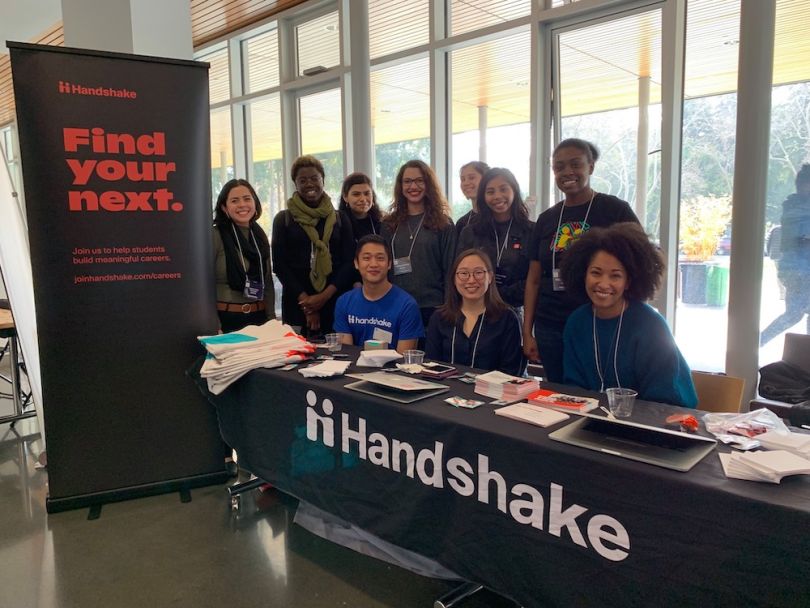 San Francisco-based recruiting platform Handshake announced Wednesday that it raised $80 million in a Series E round led by Lightspeed Venture Partners and Spark Capital. The latest raise marks the company's second $80 million round within the past year and secures its status as a unicorn with a $1.5 billion valuation.
The new funding will help the company cope with its rapid pace of growth. Handshake has more than doubled its revenue every year for the past three years and is nearing $100 million in annual recurring revenue, according to the company. 
Handshake was created with the intent to help students from all backgrounds receive the same access to employment opportunities regardless of gender, race or socioeconomic status. 
Prospective job seekers can sign on to the platform with a .edu email address and recruiters have the ability to direct message the applicants that they're interested in. Handshake features job listings that span a variety of industries, from finance and marketing to education and public service. 
The platform also offers job applicants the opportunity to learn about potential prospects through student reviews and virtual career fairs. All told, Handshake's platform brings together a network of 18 million students. 
"The way to change the way the workforce looks in the future is to focus on early career talent now," Garrett Lord, cofounder and CEO of Handshake, said in a statement. "Our mission of providing equal opportunity to all students — regardless of their background or who they know — has only grown in importance."
Nearly 550,000 enterprises use the platform to find and hire diverse talent.
With the additional funding, Handshake plans to introduce new features that can further help students develop the relationships and skills they need to build their career. The investment will also help the company continue to expand overseas and build upon its recent launch in the United Kingdom.
"We're both proud and privileged to be in a place where we can not only surface actionable insights to employers around the diversity hiring practices, but also work with them to make meaningful change in driving social mobility," Lord said.
Handshake plans to expand its team as it continues to scale. The company is now hiring for dozens of open positions across just about every department. A majority of open roles are spread across the company's design, engineering and marketing teams.
Investors Spark, Lightspeed, Coatue and Valiant participated in the round, among others.
Handshake has raised $235.5 million in venture capital financing to date, according to the company.