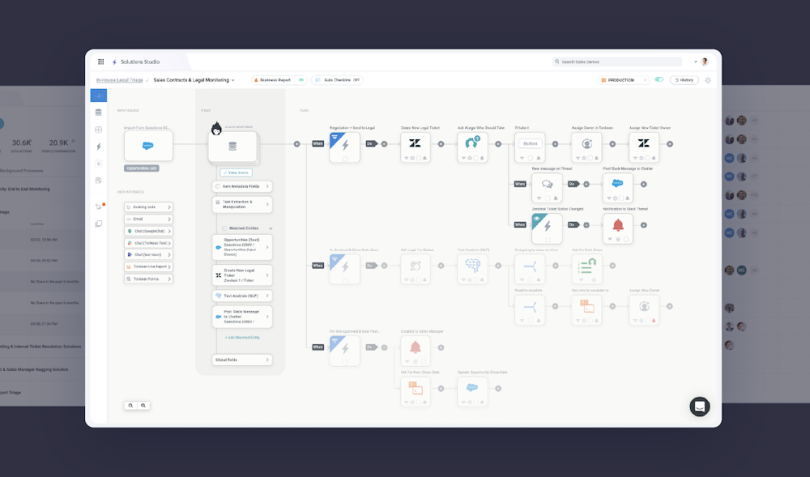 San Francisco-based company Tonkean announced Thursday that it raised $50 million in a Series B round led by Accel. The latest round follows the company's $24 million Series A, which it closed in April of last year.
Tonkean's no-code, process orchestration platform provides businesses with a way to tailor workflows to specific systems and employees.
The platform's workflow designer feature gives users the ability to build their own automated processes with reusable building blocks called "enterprise components." The drag-and-drop blocks are preapproved and controlled by IT and allow for operations teams to create solutions that can work with their current set of tools.
"Building software is still only a privilege for the few. The world needs more makers," Sagi Eliyahu, co-founder and CEO of Tonkean, said in a statement. "Business processes are complex, and today's options of 'build vs buy' are not enough."
Tonkean helps companies like Instacart and Grubhub optimize their business operations across departments.
The company's AI-powered coordination engine can be used to keep track of and manage business performance or reach out to customers via email, Slack or Microsoft Teams. Platform users can also get all encompassing views of metrics and KPIs.
"Tonkean is challenging this status quo. We are creating a new alternative in enterprise software," Eliyahu continued. "Instead of just buying more applications, relying on engineering, or forcing new behavior — operations teams can now solve business problems faster, by composing their own solutions."
The company will use the additional capital to scale up hiring for its engineering and go-to market teams as it continues to expand. Tonkean is now hiring across departments for in-person and remote-based roles in the Bay Area.
"We expect to at least double the size of our headcount within the next 12 months, if not by the end of 2021," a representative of the company said in an email to Built In.
Founded in 2015, Tonkean has raised $82.2 million in venture capital financing to date, according to the company.
Additional investors Lightspeed Ventures and Foundation Capital participated in the round, among others.