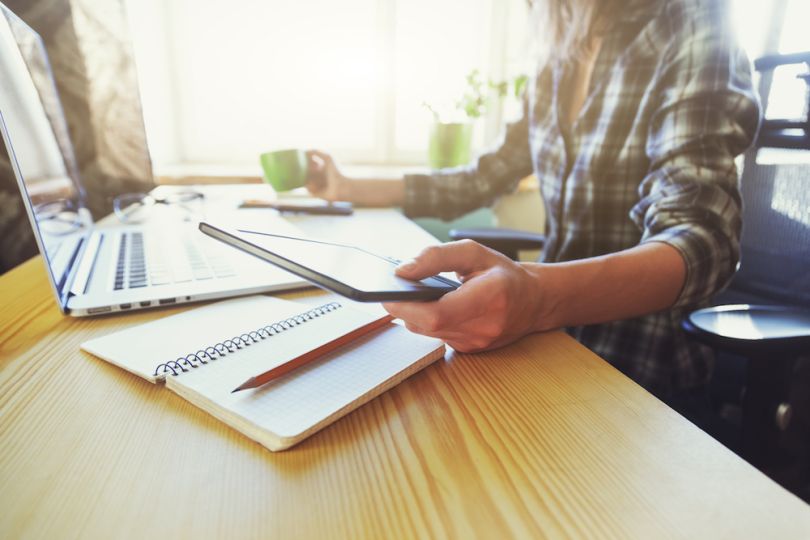 If your employer hadn't already asked you to work from home, they were recently given no choice. Even before the Bay Area's shelter in place order went into effect, office admin software company Envoy had recorded a 48 percent drop in visits to Bay Area offices, according to data shared with Built In SF.
While the technology industry hasn't yet experienced the kind of hardship that hospitality workers, artists and others are currently enduring, moving all company operations online overnight still creates a major challenge for HR departments. Technology and operational concerns aside, maintaining morale and company culture takes a lot more effort when its strictly digital. 
However, SF tech companies are rapidly finding new ways to replicate those experiences using the instant-messaging, document-sharing and video-conferencing tools available to them — and some are wondering if this shock to the system might usher in a "new normal" for remote work. To get an idea of how businesses are reacting, we surveyed HR heads and company leaders at 10 San Francisco companies about how they're faring under the restrictions imposed by COVID-19.
In addition to the increased use of tools like Slack and Zoom, Zenefits keeps an open video chat room to simulate those hallway and water cooler conversations that occur in every office. Chief People Officer Tracy Cote said Zenefits' own product — a tool that corrals org charts, phone numbers, time and attendance applications, and more — has also been handy during this work-from-home era. 
What challenges arise when quickly setting up a large-scale remote-work policy, and what strategies can leaders employ to head them off?
So many organizations and individuals are already "on" all the time, because we have cellphones and laptops that we bring home on a regular basis. This is a time to recognize that we've already been doing a ton of remote work — we just haven't been calling it that. Organizations can help employees manage their work-life balance more effectively by offering defined work hours, and providing good technology to facilitate their work as well as intracompany communication.
Managers have to understand that just because you can't see someone, it doesn't mean they aren't productive. Leaders must ensure the company has well-defined goals and a system for managers to set and manage clearly articulated goals for their employees. This is critical. Using a performance-management tool is helpful, but you can honestly do this on the back of a napkin if you have to.
Lastly, both managers and employees do need to shift in a few ways, primarily by overcommunicating and by leveraging technology much more effectively. Gone are the days of the literal water cooler or hallway conversation; these discussions have moved to virtual real-time and asynchronous text, video and voice messaging, enabled by a variety of free and paid applications. Embrace it! It's the new world order.
We are moving to a place where the "virtual" office is going to be considered a business location just like any other. Companies — and workers — will need to rethink what it is companies can or should provide, and what they should provide for themselves. I believe we will see this evolve over time as more and more companies discover new ways to provide flexibility and a thoughtful approach to the concept of working from home.
At interior design software company Modsy, 60 percent of the company's workforce already works from home full-time. Founder and CEO Shanna Tellerman outlined the different types of communication strategies the company employs to keep everyone in the loop. 
How does your company maintain a sense of community and company culture when everyone is working from home?
Over the years we've had to be very intentional in the many ways we cultivate a sense of community and culture across our remote workforce. As a foundation, we recognized that communication would be critical to ensuring everyone is informed and connected. This has led us to develop a series of regular weekly team emails, Slack channels for company announcements, and documents to capture core team goals and projects. We also have a weekly all-hands meeting every Monday that is both a live video stream and recorded for anyone who misses it. Each team hosts meetings, including video conferencing for all remote team members, and they each have a dedicated Slack channel. Throughout all of our communications, we strive to be as detailed and transparent as possible because we believe that a strong community and culture emerges from a strong sense of trust and the larger company context.  
We have also set up a number of traditions as a team to help connect people together, whether they are working at home or in an office. These include spirit weeks that we host over Slack, where people answer questions and post images sharing more about who they are as individuals. We also have a Slack channel called Coffee Buddies that automatically pairs people to have virtual coffee dates. Twice a year we have a crowdsourced internal career development day with live sessions available over video to all our employees covering a range of topics.
While Envoy's suite of office-management products help businesses sign in visitors and book meeting rooms in physical workplaces, the company's staff has gone almost completely remote. Head of People Lynee Luque described a few new practices the company is testing to help employees stay connected with colleagues. 
How does your company maintain a sense of community and company culture when everyone is working from home?
For me, the most important consideration as remote work expands is keeping our culture intact. It's so important to continue holding weekly meetings over video conferencing, which means finding creative ways to connect with co-workers and even "grab coffee" remotely together. Last week, instead of our regular office happy hour, we held a "make your own cocktail" happy hour and invited everyone to gather remotely from home with the drink of their choice. We will continue to come up with creative ways for our employees to connect as a team as long as we are all working remotely.
As the coronavirus shuts down large segments of the economy, the folks at Demandbase are still seeing plenty of requests for their AI-driven account-based marketing platform. CEO Gabe Rogol explained how he and the rest of the leadership team worked quickly to create a work-from-home strategy. 
What challenges arise when quickly setting up a large-scale remote-work policy, and what strategies can leaders employ to head them off?
The core challenge is that communication changes and, like with any change, people become uncertain. Leaders have to challenge themselves to be as clear as possible in communicating what's important to the business, that they support the health and safety of employees, and that they commit to being in constant communication. 
It's critical to have as much accurate information as possible before making any decision — that includes following the recommendations from government agencies and experts. With this information at our fingertips, our leadership team worked in a timely manner to create a work-from-home strategy that ensures the safety and well-being of employees while continuing to execute against business objectives, which themselves may need to be revised. Regular team and organization communication is critical to keep employees engaged and informed. These are some of the strategies we have employed to keep Demandbase moving forward during these difficult times.
At software consulting agency Avenue Code, everyone is submitting daily progress reports and touching base with management to make sure projects proceed as scheduled. When making this transition, Global HR Manager Danielle Machado stressed the importance of balancing accountability with employee self-determination. 
What challenges arise when quickly setting up a large-scale remote-work policy, and what strategies can leaders employ to head them off?
Leaders must encourage the constant exchange of information, share clear guidelines and responsibilities for remote work, and especially define goals and monitor the performance of each colleague.
Balancing work visibility and employee trust is essential. We need to remain highly aware of how each project is going, because we need to give visibility to our clients as well. On the other hand, we have to guide and trust employees to use their time in the best way possible.
Communication and flexibility are the best tools. Strategies have to be set promptly and communicated clearly and constantly, while any necessary adjustments should be addressed ASAP. We are all learning together, and we can reach a solid solution by experimenting and adjusting, step by step.
Cloud-based contact-center services provider Talkdesk has offices all over the world, and has been learning how to foster company culture across continents since 2011. CMO Kathie Johnson offered some tips on how to maintain sanity when you work and live under the same roof. 
How do you personally stay productive when working at home?
It's important to dedicate some space in your home that is as free from distraction as possible. Not everyone has the square footage to do this, but attempt to shut yourself off as best you can. When I first started working from home, my "desk" was the dining room table. In order to minimize distractions, I built a makeshift cubicle with cardboard and duct tape!
Create and maintain regular hours boundaries. Try to follow the similar arrival and departure patterns you had while working in the office. Working longer hours just because you work from home and your computer is "right there" can quickly lead to burnout.
Get fresh air! The nature of a quarantine is to stay sequestered away from others. However, we can still go for a walk around the block, over to the park, or take a bike ride down the street. If you are working where you also live — especially if working from home is new to you — it's very important to step out and away for at least a few minutes. It refreshes the mind, the spirit and is obviously good for the body.
If you can't take a walk, at least change up your environment. Take every other call standing up. Mix in some trips up and down the stairs, or go sit on the porch. Even in a sedentary office role, people are periodically up and moving: to the break room, a conference room or out to their car to grab the coffee mug they forgot. You don't sit at your desk all day in the office — don't do it at home.
Microservices API platform Kong ran two separate remote-work experiments last year. VP of People Janet Phillips said employees were asked to work remotely for two weeks — and found that productivity actually increased across all departments. 
What challenges arise when quickly setting up a large-scale remote-work policy, and what strategies can leaders employ to head them off?
As with any significant change to a company's working structure, team members will face some combination of confusion, fear and/or anxiety when adjusting to remote work, and your top priority should be addressing their concerns and helping them feel supported.
Questions and requests can become overwhelming, especially if your team does not have dedicated channels for team members to express their needs. To meet this, I suggest hosting regular meetings or "office hours" where employees can escalate their questions and concerns — a good practice is to recap this information in an email. You can also consider creating new email addresses, groups on Slack or even surveys to learn more about employee needs. Additionally, create a hub for all information related to remote work, including best practices, tools, FAQs and other resources that can guide employees and better prepare managers to support their remote teams.
Company resources and information should be made available to all remote workers in a secure manner. It's a great idea to transfer as many workflows and documents to secured shared sites or areas that can be accessed from anywhere. These can include services like Box, Google Drive and wikis.
The main way to get ahead of any potential hurdles is to convene a cross-functional working group to discuss potential issues and solutions. Bring in representatives from your C-suite as well as any department or functional leads, including people from sales, customer support, marketing and communications, engineering, product and so on, and discuss how a transition to remote work will impact their teams. Supplement these conversations with employee interviews to get a better picture of all the concerns, and then get to work on implementing and testing solutions.
Using artificial intelligence, People.ai's technology finds revenue opportunities for sales, marketing and customer success teams. Founder and CEO Oleg Rogynskyy outlined his leadership team's response to the shelter in place order, saying he thinks tech's adoption of work-from-home policies may lead some companies to stick with it after the order lifts. 
What challenges arise when quickly setting up a large-scale remote-work policy, and what strategies can leaders employ to head them off?
When we have uncertainty in the macro-environment like right now, the question on top of many leaders' minds is how they can continue to drive predictable growth. I think a lot of leaders get concerned that their employees may not be as focused or aligned with company priorities when they are not in the office. We've seen that encouraging one-on-one meetings and consistent communication in all organizations has been key to keeping both morale and productivity up. Doubling down is helpful in keeping them motivated and engaged.
For example, we are able to equip our frontline sales managers with information (using our own technology) that they need to have effective conversations with their teams and ensure that growth stays on track. The technology uses leading indicators to determine output and, therefore, generates more predictability for the business.
We also make our leadership team very visible. For example, we're hosting virtual coffee chats with one or two members of the executive team to try to mimic more casual conversations that usually would happen in the office. Our team can tune in, chat about work or other things on their mind, and also receive reassurance to continue with their day and tasks.
I see this as potentially being a segue into a new normal. Companies and employees may see opportunities to grow and scale with remote teams that will likely change the nature of how we work. The outstanding question is if leaders are prepared. We are spending additional effort to maximize leadership presence across all teams with consistent updates about the current state of the business, risks we are facing and opportunities we are looking to explore.
Payment platform Marqeta has maintained its company culture through this period of remote work by encouraging conversations unrelated to work through its online channels. VP of Recruiting George Rider has prior experience as a remote employee and said it's especially important to maintain psychological distance between "work" and "home" when both happen to be in the same physical location. 
What challenges arise when quickly setting up a large-scale remote-work policy, and what strategies can leaders employ to head them off?

Communication is the biggest challenge. You need to be overcommunicating proactively across a number of different channels, like Slack, email and documents. Start with a basic plan and seek feedback along the way and provide tips and tools for people to collaborate together remotely. We're fortunate to have a majority of workers with a reliable broadband connection. You have to make it easy for employees to work from home by allowing for a communication stipend. Additionally, make sure that there are dedicated people and communications channels to help people working remotely.
How do you personally stay productive when working at home?
When I first worked from home, I fell into the trap of having no separation between home and work. I could feel myself burning out pretty quickly. It didn't take long to discover that boundaries are important. Having a dedicated space and set work hours helps. Now I dedicate time to work and make sure to take breaks throughout the day.
Manufacturing network Fictiv asked most of its employees to work remotely ahead of San Francisco's shelter in place order, and has instituted a number of community-building traditions to keep everyone engaged while they wait out the coronavirus. Head of People Desiree Therianos took us through her efforts thus far. 
How does your company maintain a sense of community and company culture when everyone is working from home?
As a global manufacturing ecosystem that manages a network of distributed manufacturers around the world, we're well versed in what it takes to optimize remote, distributed work. We also have teams in San Francisco and China who collaborate regularly through remote systems.
To maintain a connected culture, we proactively host a range of remote-friendly gatherings, including a company-wide Monday morning stand-up, a Friday "Demos & Kudos" session, quarterly AMA panels with our executive leadership team, and even small gatherings like virtual pet meetups where anyone can join and bring their pet for a meet and greet. We encourage everyone to turn their video on when joining remotely so we can still connect as people.